Do you want to create a course, and associate the points with a sequence?
There are two solutions:
The plan
The plan is an image on which the points of interest are integrated. We all control the content but the possible actions are limited.
It is not possible to zoom in, or to see what is around the points of interest.
Provide us with the plan in question, and we will associate the sequences to each point of the map.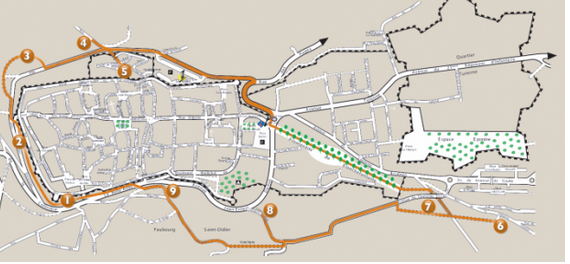 Mapping
TThe mapping uses the OpenStreetMap system.
Using the geographical coordinates, or via the address of the points of interest, we can place these points on the map and associate them with each sequence.
The actions possible with the cartography are wider, it is for example possible to zoom in, to see what is around the points of interest..
Your visitors will have the choice between 2 modes :
Exploration mode
Explore the map with the smartphone and click on the points of interest to start a sequence.

The navigation mode
This mode centres the map on the visitor's position, the points of interest appear spontaneously.

If you wish to create a route, please feel free to contact us.