Step 1: Creating the audio guide
After you have logged in, these are the steps needed to create an audio guide:
Click on Create an audio guide on the O-DGuide homepage.
You will arrive on the page below: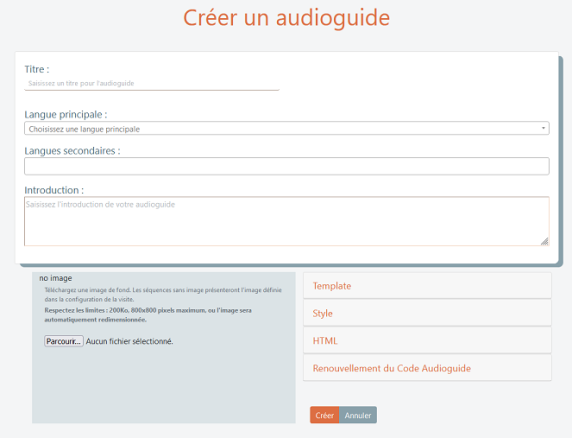 To create an audio guide, you will require:
Enter a title
Add a main language .
This language will be used as a reference for the sequences in secondary languages, notably for the images, the template, the translation of the text... ), this may not be modified later.
An introductory text
An image. (This image will be the default image for sequences that do not have an image)
Click on create.
You have just created your audio guide. All you have to do now is create a sequence.
Optional features of the audio guide
You can also :
Choose secondary languages, there is no limit.
Add a specific style to the whole audio guide. Templates are editable, more information on editing templates
Add html code to your audio guide. For example, this could be used to add a link to a site at the bottom of your audio guide.
Choose a renewal frequency of the tour code.
One of the ways your visitors can access an audio guide is through a code. Depending on your policy this can be renewed every day, week, month, year By default this code has no renewal.
Step 2: Creating a sequence
Start by clicking on Add sequence, in the home of the selected audio guide.
You arrive on the following page :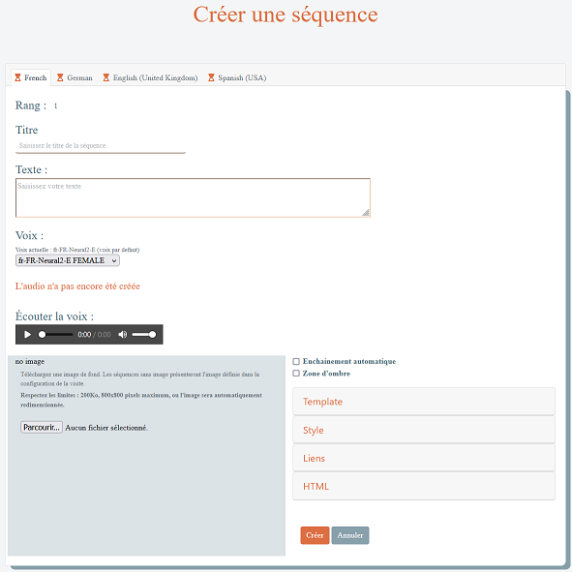 Before creating the sequences in your secondary languages it is mandatory to create the sequence in the main language.
All uncreated sequences will have an hourglass before its name, while the created ones will have a green tick as below:

To create a sequence you must:
Fill in a title
Add your text
Click on create.
Your sequence has been created, you can now create the sequence in another language.
Optional features of the sequences
You can also :
Edit Voice and listen to it. (Listen to Voice will take a predefined text, not the one you entered previously.)
Add one image. This will be the image for the sequence, if no image has been selected then the sequence will take the image from the audio guide.
Check Auto sequence. If you want the next sequence to start directly after this one without the visitor having to press next.
Check shadow area. To assist the operation of the audioguide in areas with a poor network. This depends on the package chosen. For more information, contact us.
Change the template. The default template corresponds to the one in the audio guide. More information on templates.
Location of links on a map or image. It depends on the chosen formula. For more information, contact us.
Add html code to your sequence. For example, this can be used to add a link to a site at the bottom of your sequence.